Warning: Parameter 2 to modChrome_artnostyle() expected to be a reference, value given in /customers/0/f/5/villakuriosum.net/httpd.www/templates/villa2/html/modules.php on line 39 Warning: Parameter 3 to modChrome_artnostyle() expected to be a reference, value given in /customers/0/f/5/villakuriosum.net/httpd.www/templates/villa2/html/modules.php on line 39

Sand im Getriebe #2
14.2.2015 - Experimentelle Muzik von:
Hüzün - experimental free jazz noise [huzun.bandcamp]: Marcello Busato [marcellosilviobusato], Pierre Bizot & Xing/Wojtek Bajda [xingberlin]
Fishtrio - performance mit Horn [elenakakaliagou.com], Percussion und Liveprojections
Rempetiko Punk (greek folk punk).
20.2.2015 - Ukulele Festival mit:
1/8 Calypso
¼ Chapeau de Paille
& 102% Flip le Doof (Berlin)
Georg Kostron und sein manager
- 13.2.2015 -
Georg Kostron und sein manager - DaDaPop aus Wien [georgkostron.eu]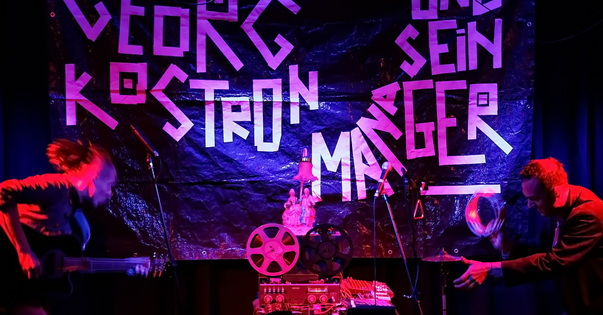 SYRPHE#2
- 5 Feb. 2015 -
Syrphe Label is a platform mostly dedicated to alternative electronic, noise, sound art, electroacoustic from Asia and Africa, run by C-drík, a composer, musician, organiser, essayist based in Berlin [www.syrphe.com]
Live C-drík / Kirdec & other projects. (electro-acoustic / industrial )
and Nekrobot (experimental / eclectic - Sabbat Berlin) >>sabbat-berlin
with Lain (audio-visual experimental / drone)
***2015***
30.7.2015 - Poetic Live Acts: flip le doof, bye bye Belgium, Atlanta Athens, seeräuber jenny, repatha wollny
12.7.2015 - L'utopia orchestra
18.7.2015 - Peggy Peng (mother earth), Domo Arigato Mr. Roboto (psychedelux), Jou (akkordeon abstract)
25.6.2015 - Experimentell: Yann Keller und Arcam Arcada
***2014***
21.11.2014 -Punk: Johnny Kurt vs. Hank the Tank, Warriors of Darkness, les soiff (DE, FR)
17.10.2014 - Les Cloportes (Akkordeon Duo mit Stimme aus FR)
6.7.2014 - Protestango – music theater itinerant show (Argentinien)
Monólogos, Rap, Beats, Efectos vocales, Samples son mezclados en vivo con dramáticas melodías de Tango Punk. [www.protestango.blogspot.de/]
10.2.14 - soliparty mit Unterlala, Dr. Nexus (+ tatoo performance) , Darkam, Electric kettle, Auktion, Lesung.