Lord Mouse & the Kalypso Katz
Datum:

12.08.2018

STATUS

Zeit:

17:00

Ort:

villa kuriosum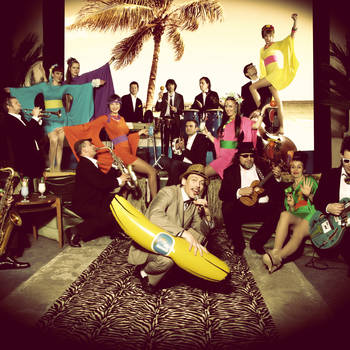 12. August 17Uhr
Lord Mouse and the The Kalypso Katz
Calypso lyrics are rebellious, humorous, and sometimes suggestive protests of corrupt politics or racial prejudice, while touting the singer's street cred and sexual prowess. Nevertheless, the heavy calypso orchestra can still make you sweat and dance to "Calypso Hipshake"or leave you surprised but still amazed by the Soviet cartoon ditty "Chunga Chunga". It seems like the music scene is ready for some traditional Caribbean music from the early 20th century translated into 2013!
represent what can be called a multinational family: after four years of wooing crowds around Western Europe, this 7 nation 17 member band has finally churned the non- stop dancing crowd in Berlin- even without using cheap electronic beats. On the contrary: with their strong, wildly effusive and charmingly quirky personality, they now want you to get to know the Caribbean idea of great music by just giving you the sweet advice to "Go Calypsonian" .
https://www.youtube.com/watch?v=FdLIFJi48QI
https://www.youtube.com/watch?v=FdLIFJi48QI