Maria de Vasconcelos
Her stage career began in 2000 when she began to work
with Antonio Rama. Since then, she's worked with many
companies and directors, such as John Mowat, Nuno Pino
Custódio and Filipe Crawford.
She completed the drama course at Escuela Internacional
Berty Tovías - Estudis de Teatre, Barcelona, which follows
Jacques Lecoq's pedagogy, and specialised in physical
theatre and gesture.Her artistic training included work
with Agnès Limbos, Jesús Jara, Ferruccio Soleri,
Montserrat Bonet, Berty Tovìas and Yoshi Oida.
Since 2008, she's focused on her own projects. She's the co-author of:
A Terra dos Imaginadores; Objeto Náutico Não Identificado; Abundância; Garota Portuga Procura and The Monkey, and the author of No Quintal da min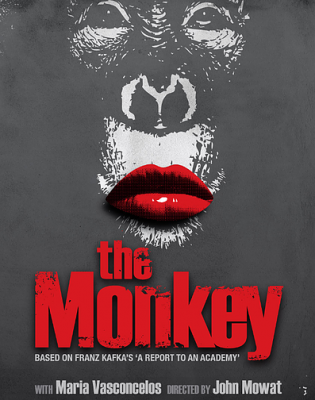 a avó os Cavalos nasciam das Árvores and Die kleinen Lämmer or The Little Lambs.
She's worked on social intervention and arts education programmes in partnership with CCB, Culturegest, Pim Theatre, Teatro Municipal Maria Matos and Evora Prison. She performed as a Doctor Clown in the Associação Remedios do Riso. Since 2008 until 2013 she was the teacher of Physical Theatre and Improvisation at Inimpetus – Actors School.
Maria de Vasconcelos is now living in Berlin where she works as an actress presenting THE MONKEY and the Die kleinen Lämmer and she´s also runing a Theater Lab for the students of Heinrich-von-Stephan Gemeinschaftsschule.
http://mariavascoactriz.wixsite.com/maria-de-vasconcelos
@ villa 2014 & 2016