"Charivari Transitzone : welcome to a real world !" - 2016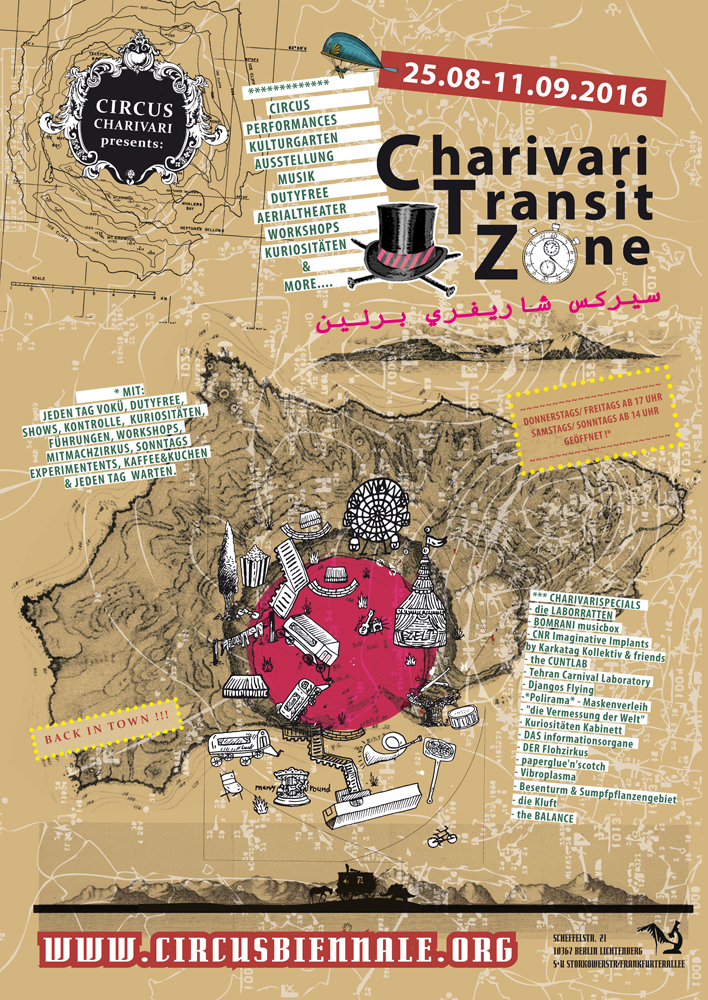 Vom 25. August bis 11. September >> Circus Charivari presents:
VIELE SHOWS – ATTRAKTIONEN AUS ALLER WELT- LEBENDE KURIOSITÄTEN- PERFORMANCE_ THEATER_INSTALLATIONEN- MUSIK und CIRCUS!!!
Es muß alles im nichts enden, sonst hat es keinen Sinn!
"we left with a boat, ended up in an unknown island between realities.We made it charivari island.Come and become part of an experiment: In the transit zone you belong to nowhere, no countries, different rules and changing borders. Come and wonder! More curiosities and an experience you will never forget."
Merken
Merken
Merken
Youthitude Festival #02 - 2016
** 26th - 28th february **

- meeting point of people using selfmade designs as medium for zines and forever drawings -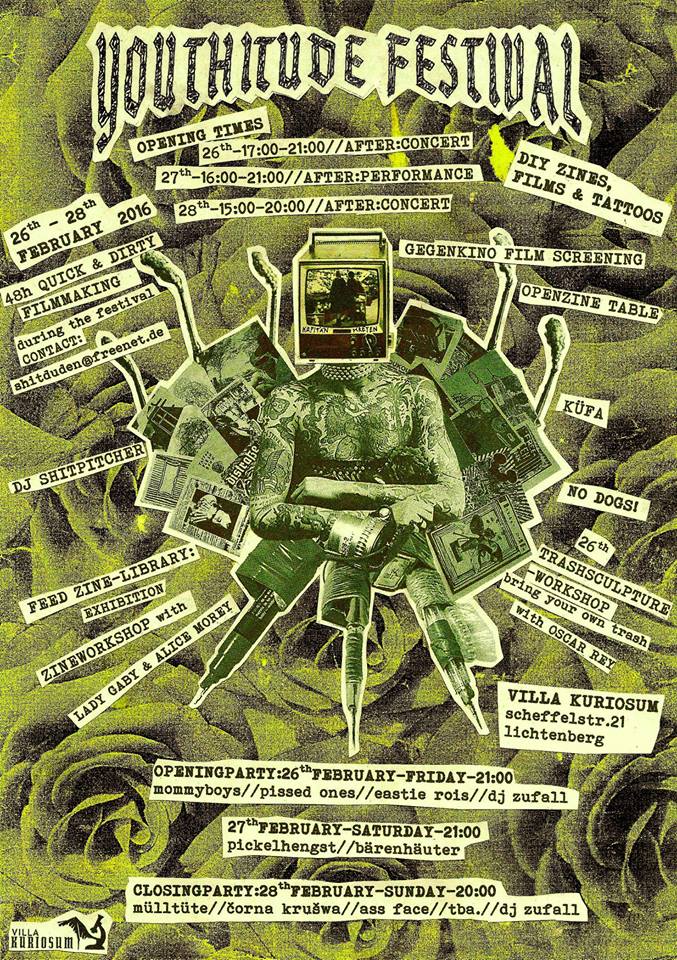 DIY/Homemade Fair for Zines, Tattooists and short Filmmakers across Europe. Exhibition, Live Performances, Stands, concerts. Handmade art screenprints on t-shirts, paper, skin and other medias... plenty of new books from Berlin underground for the library.
Merken
Merken
GoodByeEars - 2013
CHARIVARI COLLECTIVE and its southern nodes are proud to present: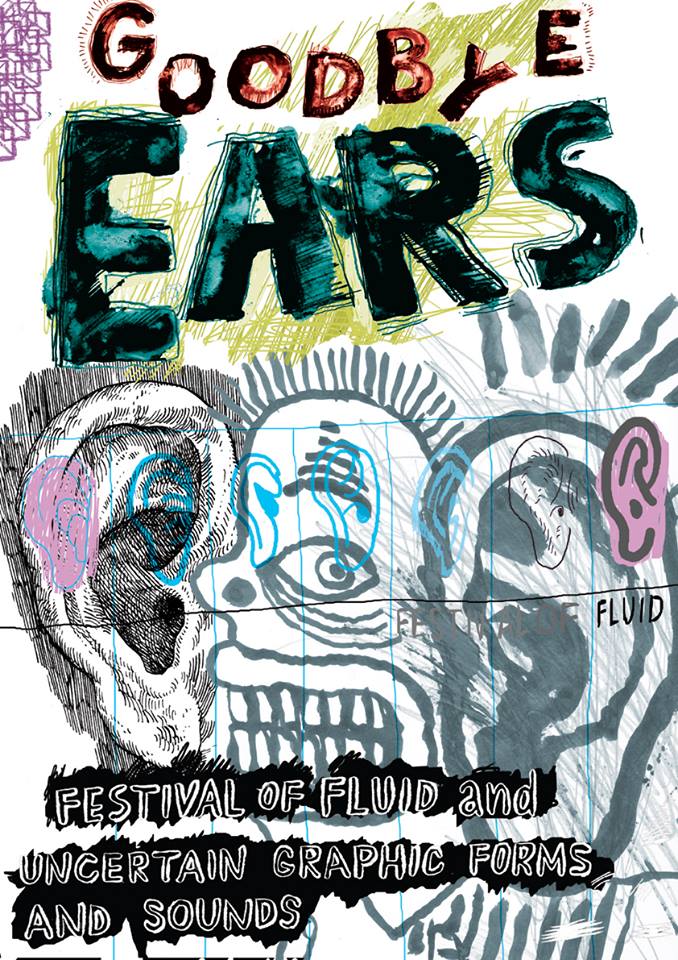 GOODBYE EARS FESTIVAL - a festival of fluid and uncertain graphic forms and sounds
Labels, names, questions and answers are terrible waste of time. What we know is that contexts are broken and mixed, contents are compromised and shared beyond any responsibility, meanings are destroyed in front of our eyes. What we want is wrong, what we suggest is nothing. We invite you to join us at the blissful showcase of graphic, print and comics art coming from so-called 'marginal cultural areas' of here and there, Europe, Balkans, and othed dark Graphistans, showcase of one art scene that exists floating in a cloud above the cultural area of post-humanistic Europeania. Strong expressionism, elyptic and autistic narratives, eye-biting colourful graphism, violence, love, gentleness with long nails, hard party and infinite sympathy is what unites all these styles and artists in what is caled GOODBYE EARS festival.
Merken
Kunst & Circus Festival Charivari - 2012
circus*performance*ausstellung*musik*aerial theater*workshops*kuriositäten & more....
circus chariVari ist wieder in der Stadt!
Willkommen! Bienvenue! Welcome !
To our shows, to our life, to our family!
Wir präsentieren euch Freaks von Nebenan und aller Welt,
Sensationen und Alltägliches!!
Kommt und staunt!!!
Wir machen keine Show, Wir sind die Show!


----------------------
Mittwochs bis sonntags, ab 16h00 :
shows & k urios itäte n, ch ari var ibar & Vokü,
führung en, fre i e s tr ainin g, mi t m a c hz i rku s,
specials guests & jeden Tag überraschungen
----------------------
Workshops: Fingerpuppen // Karrussel // Manipulation // Stopmotion // Tuch // Hula-Hoop // Akrobatik // Yoga // Mime // Clown
----------------------
with guests & stars :
the s iame s e s , Mr. toxo, di e kanone f rau,
the tattoo orakel, the freakomat, the
pudde l s , the al l e rgic monst e r, the s l ave,
the printing rabbit, &: